MOBILE VIDEO GAME RENTALS - THE BEST PARTY IDEA IN MICHIGAN
The Premier Mobile Video Game Birthday Party!
Five Wide-Screen HDTV's provide the gaming entertainment in front of custom stadium seats with built-in vibration motors synced to the on-screen action with speakers in front and back. A Huge 55" HDTV is located in the "Action Area" at the front of the theater...everything is linked, so 20 players can play the same game against each other or up to 5 separate games at the same time! Play as a team or enjoy different games, because there are plenty to choose from — all the newest games from Wii U, Playstation 4 and Xbox 1 with a "Game Coach" to help anyone who needs it. And yes we have all the classic games too. Since there are no single-player games, it's the ultimate party for a group to have fun together at birthday parties, events, festivals and more!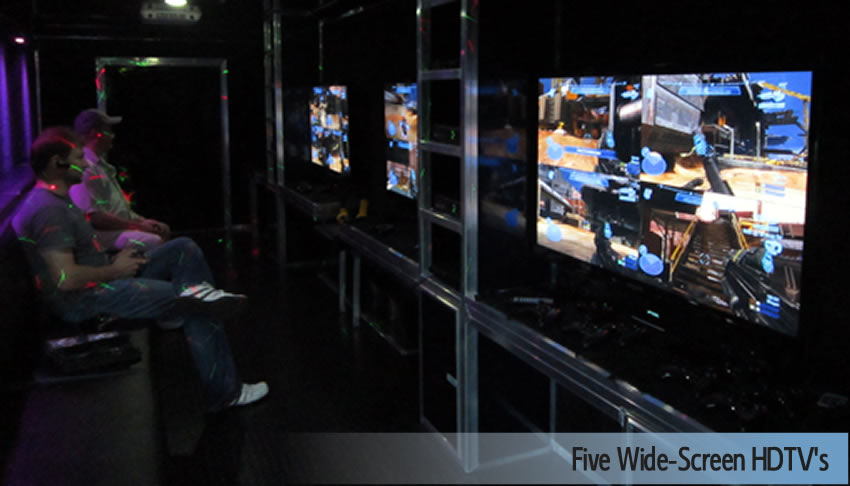 Looking for the Ultimate Michigan Birthday Party, Graduation Party, or the best party idea for any event? Looking for a Party the kids will talk about for years? Pizza Parties and Bowling Parties are a thing of the past, with MVP - Mobile Video Game Party! Be the first in your neighborhood to have this new and exciting party! Suddenly, the Moon Bounce Parties and Gymnastics Parties pale in comparison! A video game party in the MVP Gaming Theater blows them all away! Whether you're looking for party ideas for a teen party, a kid's birthday party, a bachelor party, adult get-together or church or school party, go with us! You'll be glad you did! Bring our party place to your place! Book your party today!